Welcome to Prophet Elias Greek Orthodox Church! We are happy you are here. Please feel free to explore our wonderful programs and activities as well as the rich resources we have made available to familiarize you with the Christian Orthodox Faith.
Our hope for you is to come to know Christ and His Church. Our mission is to help you on this path to enrich your knowledge, discover the Hellenic tradition as well as the rich treasures of the Christian Orthodox faith. We welcome you with open arms into our warm and family-friendly parish.
Prophet Elias Church is included among the Parishes of the Direct Archdiocesan District, under the direct authority, supervision and pastoral care of His Eminence Archbishop Demetrios, Primate of the Greek Orthodox Archdiocese in America.
Founded in 1940, Prophet Elias Church, centrally located just north of New York City in Westchester County, is the only Greek Orthodox Church in the City of Yonkers. Our Parish serves the Orthodox faithful in the western part of the county, along the Hudson River, starting from the upper Bronx and extending as far north as Ossining and surrounding areas.
We hope you will find the programs and activities we offer helpful and rewarding.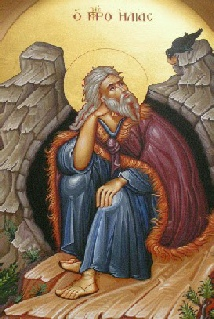 The Greek Orthodox Church of Prophet Elias
Celebrates
THE FEAST DAY OF SAINT ELIAS THE PROPHET
Tuesday Evening July 19
7:00 -8:30 pm Great Vespers in honor of our patron Saint Prophet Elias with Artoclasia the blessing of the Five Loaves
Wednesday July 20 Name Day of Prophet Elias
8:00 -11:30 am Orthros and Divine Liturgy with the blessings of the Five Loaves .
We invite all the faithful to come to both services to honor Prophet Elias.. The ladies of our parish invite us all to the church hall for coffee and sweets
Εορταστικό Πρόγραμμα επί τη εορτή και μνήμη τού
Προφήτη Ηλία. 19 -20 ΙΟΥΛΙΟΥ
ΤΡΙΤΗ (βράδυ 7.00 -8.30 μ μ ) 19 ΙΟΥΛΙΟΥ Μέγας Πανηγυρικός Εσπερινός μετ΄Αρτοκλασίας.
ΤΕΤΑΡΤΗ 20 ΙΟΥΛΙΟΥ ΚΥΡΙΏΝΥΜΟΣ ΗΜΕΡΑ ΜΝΗΜΗ ΤΟΥ ΠΡΟΦΗΤΗ ΗΛΙΑ (Πρωί 8.45- 11.00 π μ Ορθρος και Πανηγυρική Θεία Λειτουργία μετ' Αρτοκλασίας.
Προσκαλούμε ολους τους ευσεβείς πιστούς να εκκλησιαστούν και να τιμήσουν την εορτή και μνήμη τού Προφήτη Ηλία. Μετά τήν Απόλυση προσκαλούμεθα εκ μέρους τώ Κυριων της κοινότητας και τις δύο ημέρες να περάσωμε στην κοινοτική αιθουσα οπου αι Κυρίες θα μας προσφέρουν καφέ γλυκίσματα και αναψυχτικά.
Services Schedule
Winter Services : Orthros 9:00 A.M. Divine Liturgy 10:15 A.M.
Summer Services : Orthros 9:00 A.M. Divine Liturgy 10:00 A.M.
Week Day Services : Orthros & Divine Liturgy 9:00 -10:45 A.M.
---
Words to remember and live by
Fr. Nicholas
Then suddenly a chariot of fire pulled by horses of fire came between them, and Elijah was taken up to heaven by a whirlwind. Elisa saw it and cried out to Elijah (II Kings 2:11)
---

To stay informed on the activities of the Direct Archdiocesan District, please visit us at: http://ny.goarch.org